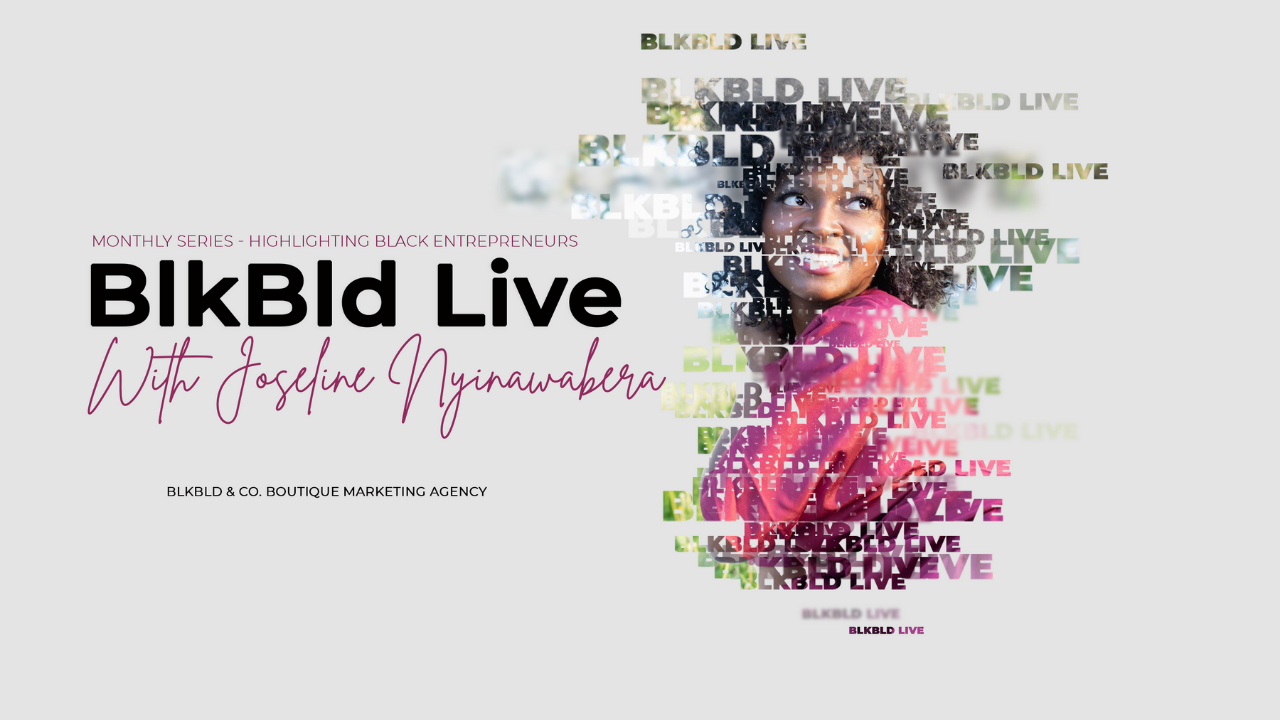 BlkBld & Co. Founder's Journey to Business
Get to Know the Founder of BlkBld & Co.
BlkBLd Live is all about uplifting the voices of Black entrepreneurs and business owners. I love interviewing other brilliant business people, but it's time to share my own journey to success.
I hopped on BlkBld Live in the middle of a global pandemic — a time when our hearts are aching to take care of each other, the corporate world is getting trickier and trickier to navigate, and even the smallest business decisions can have a huge impact. But these obstacles aren't new to me.
The Journey Begins
I'm no stranger to truly life-changing challenges. I was born in Rwanda and lived there for my early childhood while the Rwandan Civil War was going on. I was four years old when the genocide began. As the world fell to pieces around us, my family was sustained by the financial support of my uncle. He had found success in business and used his resources to help our family. Even as a kid, I was inspired by his ability to support so many people, all because of his business.
My uncle has been a guiding force for me ever since. I knew I wanted to be a businesswoman. I wanted to have a meaningful impact on my community and especially to care for the people I love. And that's just the start of my story.
My Passion for Business
My vision became more clear in high school in the U.S. when I was introduced to marketing through DECA and fell in love. That first experience launched me towards my degree in marketing, management, and human resources from the University of Wisconsin and, eventually, the total breakdown that led me to build BlkBld & Co.
I graduated and got my dream job. But the company changed. It was a dramatically different situation, and I had to get out. So I got my feet wet with my first entrepreneurial experience. I connected with an innovative real estate tech startup. I invested tons of time, energy, and resources in this project. It was exciting and inspiring. Until it wasn't.
Two years into the project, I was sinking with money troubles. I was far from home. I missed my family, my community — the people I was supposed to be doing all this for. And even the relationships I had in Phoenix were falling apart. (You can get the whole story in my BlkBld Live conversation.)
Escaping the Entrepreneur's Nightmare
Maybe you've had an experience like mine when nothing is working and it takes too long to figure out how to get out. It almost seems like a rite of passage, but it is not something I'd wish on anyone.
Looking back, it took me a long time to realize I needed a change. But once I did it was so clear.
First, nothing was working at work. We were losing funding. Our team was disintegrating. At times, I felt like I was holding it all up on my own.
Second, my values were missing. I had no time with my family, the people that inspired my interest in business from the start.
Instead, I was pouring time and money into this project. I wasn't even really able to take care of my own essential needs. I couldn't afford to go out for one meal for my close friend's goodbye brunch. I was unhappy and losing hope. When I realized what was going on, it was the only decision I could make.
Creating the Business of My Dreams
There was no way I was going to repeat that mess. BlkBld & Co was the business of my dreams.
I wanted to build my business with integrity. So, after grieving the loss of my old life, I finally remembered my guiding star, my desire to be a businesswoman, and my hope for giving back to my community.
I started sewing the seeds that would become this beautiful boutique marketing agency. I got a job to build my skills and help pay the bills. As I got back on my feet, I had the energy and clarity to finally build my business.
The Five Values that Shape My Work
These principles continue to guide our business development and growth mindset at BlkBld & Co.
Knowing My Values
I aim to uplift my community with my work. When I align my work with my values, I never doubt I'm on the right path.
Time Is Precious
I know the value of each moment. I have clear boundaries to support my well-being and ensure I have time for my passions and priorities in and outside of work.
Less Confusion, More Consistency
I am laser-focused when it comes to work. I connect with my clients consistently and create clear expectations that enhance our collaboration.
Customer-Focused Decisions
I know my ideal clients' needs. I craft my services in ways that truly support them. This is the primary force behind my success.
Seeking Knowledge
I love learning, and I know I'll never know everything. I've found the more open I am to learning, the more I grow. My business evolves with every lesson.
Your Clients' Stories Will Change Your Business
When you understand your customers and especially your ideal client, everything changes. That's the backbone of BlkBld.
Whenever I make a decision about my offerings, I envision my ideal client, Estelle. I think about her story, her needs and wishes. Thanks to Estelle, I know that what I put out there really is serving my clients.
The events of my life shaped BlkBld & Co. I suspect that every one of your clients has a story that has led them to you. You know the value of your story. Do you know your clients' stories too?
I put together a free roadmap so you can get to know your ideal clients and their stories even better. It's a game-changer for your branding and marketing strategy. Download my Ideal Client Roadmap and get started right now.
---