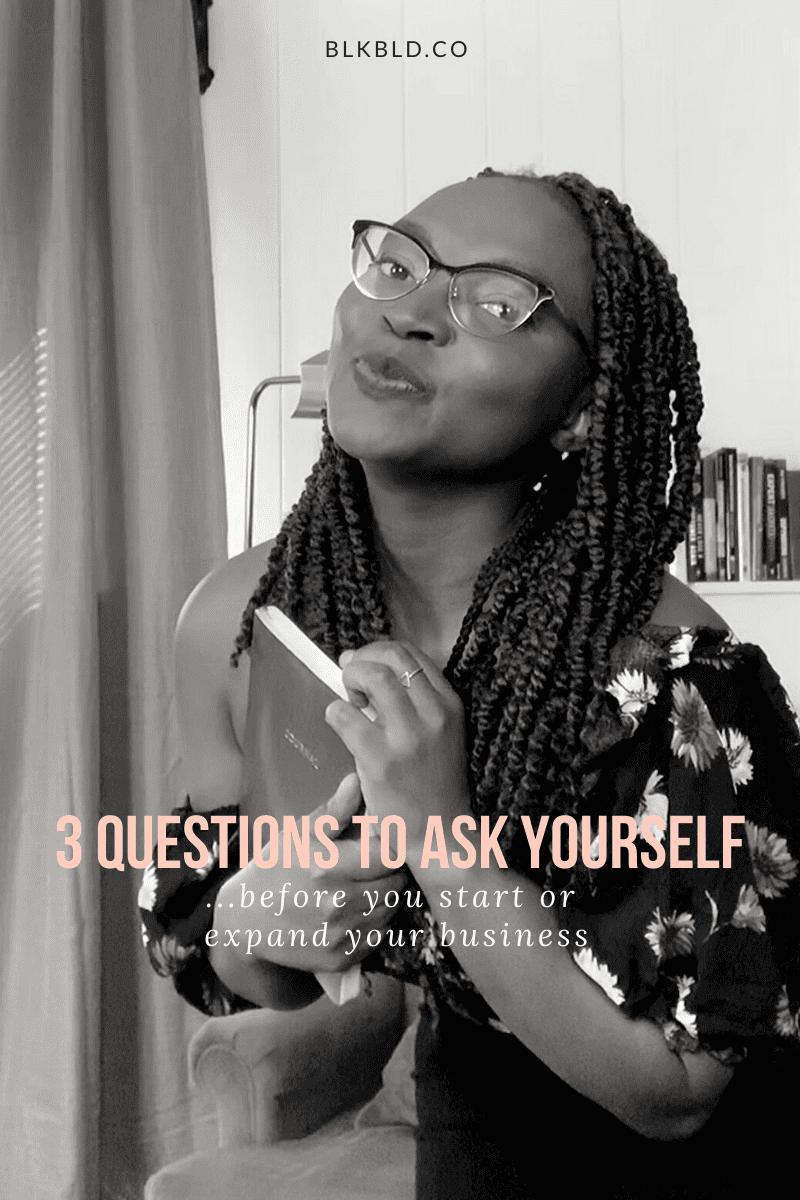 3 questions to ask yourself…before you start or expand your business
Join me as I dream real quick…
Close your eyes [well not really because you are reading this…but you know what I mean ?]
Imagine what your business would look like if it truly aligned with your passions and purpose…How would life look like? How would you feel waking up every day?
Imagine your product or service was so unique to your industry and market, clients were knocking down your doors…how would that change the trajectory of your business? How would that change your life?
Whether you are starting, revamping, or repositioning your business, take time to answer the following 3 questions.
1. Take a hard look at yourself and ask yourself these questions…
Although it may seem strange to start with you, it truly makes the most sense. You are the most critical part of your business, at least when you are starting out. So sit down and meditate on the following questions about yourself.
And please don't cheat yourself, or answer these questions willy nilly, because again, YOU are the critical part of your business.
What is your why, what is your passion? What are your desires and goals?
Take a hard look at your strengths and understand your weaknesses.
How do you manage your finances? Look at your personal finances. And if you already own a business, look at how you manage your current business' finances. Finances will influence your business and its ultimate success or failure.
Take some time to really know yourself. Identify personal obstacles. Do you have the resources, skill, and time to succeed?
Please note – Starting a business, expanding a business, and/or repositioning a business is very HARD WORK…it requires dedication, persistence, and commitment 24 x 7. Make sure you are ready for it.
2. Ask yourself some high-level questions about your business idea…
Here I am not suggesting you need to know all the details about your business processes. Instead, take some time to do self-reflection on your business venture. Then head over to google, and youtube to see what others are doing to answer the following questions.
What do you want to do?
How or why are you different or unique?
How will you deliver your product or service?
Who will buy from you?
Where or why will they buy it?
3. What gap are you filling?
This is a BIGGY!
What do I mean by gap? A gap is an untapped market or group of potential customers who have not been served a good or service that is sufficient to their need or want. It is an unmet need. A gap in the market represents huge opportunities for any sized company to expand their awareness, increase their engagement, and grow their client base.
Business owners who find a need and close the gap by providing a solution for that need win and they win big. Now that you have an understanding of your overall idea, take time to make sure it fills a gap in the market.
The key here is to study the industry you are trying to get into with the goal of learning what's out there, observing what's working, and gleaning on what's not working.
It's about finding a gap in service, a gap in the product delivery, a gap in the industry and filling that gap with your expertise, the experience you bring to the table, your personality, and your brand.
---
PHEW and baby…when what you are doing aligns with your purpose and your why….magic happens. Growth, joy, and financial freedom follow.

Taking the time to understand yourself, your why, your passions and purpose, and then aligning it with a business venture that fills a specific gap will get you that life you envisioned earlier!
To learn more about the 3 questions, check out the latest YouTube Video.