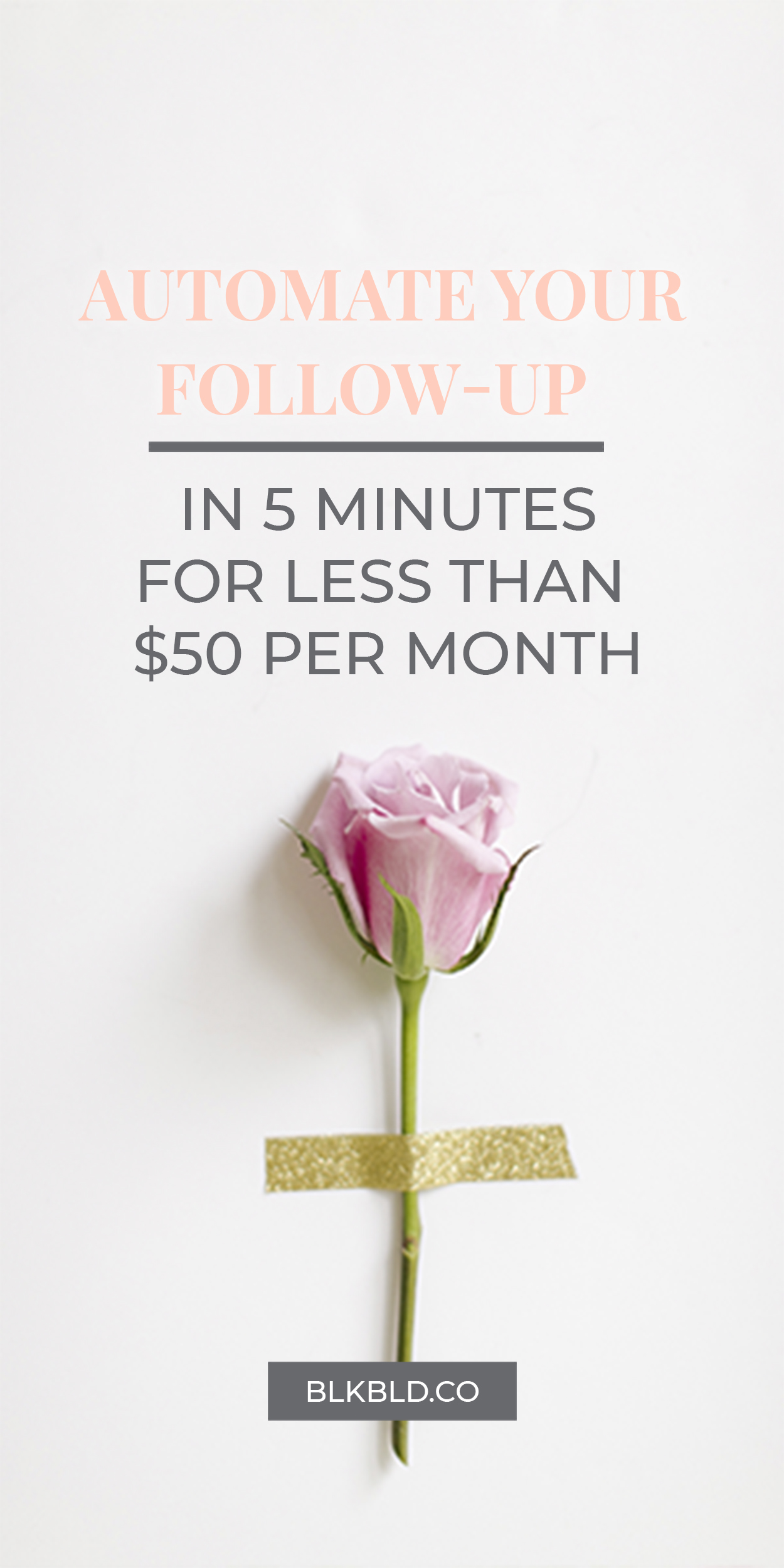 Automate Your Follow-up In 5 Minutes for Less than $50 per Month
We all know that the "Fortune is in the Follow-Up", right? Right! But the act of following up is honestly just tough – it's hard to keep track of, and hard to do. You are not alone in thinking this.
Studies show that it takes an average of 8 contacts with a prospect to finally convert a lead into a sale. Most sales associates stop at 2 contacts; the initial contact, either through a cold call, website form-lead or face-to-face chance greeting and the follow-up appointment after which a sale occurs or the client says "NO." Some prospects never even make it past the initial contact. Some professionals never even do the first contact.
So how do you stop this cycle and gain more clients that like and love you?
Below are a few of our favorite tools we use to automate the "touch" or follow-up process. These tactics will make your business more efficient and productive!
Huge caveat here…you cannot automate everything, there needs to be a human touch, however, for tasks that can be automated, DO IT! It will save you time and increase your customer service…and ultimately increase your leads – WIN- WIN –WIN!
AUTOMATE YOUR RESPONSES
Have you noticed people ask the same questions via email, social media, blog posts? Do you find yourself replying the same or similarly to each question? Well, this awesome tool will save you so much time on your admin time. Introducing…..TextExpander!
TextExpander lets you instantly insert snippets of text from a repository of emails, boilerplate and other content, as you type – using a quick search or abbreviation. Doing so allows you and your team to have a consistent voice, it gives you more time and it creates consistent, accurate and current content.
Click here to download it to your Chrome extension for free!
Most clients ask you similar questions, go through all your messages and figure out the top 10 frequently asked questions and type out replies for each question. Create a snippet or macro for the reply, so when someone asks you the questions, you reply with, for example, 3 letters vs. typing out a whole email. Simply change the name on the email and BAM!
This is SUPER hard to explain…so click here to watch the quick video below to see what we are talking about. This blog also does a great job reviewing and walking through how to set up the TextExpander.
AUTOMATE YOUR EMAIL MARKETING
Email Marketing Automation is an ecosystem of tools and mechanisms that helps to automate ongoing conversations with customers and maintains delivery of a high degree of personalized content. This allows you to make sure that subscribers receive tailored content they simply want to read. It allows you to be top of mind and helps the client know you are a subject matter expert. The key is making the emails sound like one-on-one conversations, allowing you to create and nurture relationships while you sleep.
For email automation, we recommend Drip.co, Mailchimp or actionetics.
Basic Email Follow-Up Sequence:
#1 Email: Thank people for downloading your lead magnet and/or PDF. Or Thank them for attending your open house.
#2 Email: Overcome your #1 biggest objection that people have when purchasing your listing or working with you to find a home.

#3 Email: Give a case study or example of how you improve your customer's lives.

#4 Email: Invite them to go to your sales page.
VOICE MAIL AUTOMATION
Want to reach a number of clients as soon as possible? SlyBroadcast allows you to drop voicemails to as many people as you would like. The software by passes the phone ringing and sends your message straight to their voicemail.
Once you have sent your voicemails, you wait for your contacts to call you back – and believe us, they will call you.
The best messages to leave are ones with urgency, ask your contacts to call you back as soon as they receive your message. Don't say why you are calling, just ask them to call you back.
Once your phone rings, THEN let them know the meaning of your call. Maybe you are calling to ask them for referrals, maybe you are calling them to update them on the market – whatever the call's focus is, start with a voicemail drop. It is efficient and effective!
Our referral code is 17445f100 when you get your account set up, use that code and receive 100 FREE messages!
We hope this article will help you or someone you know ramp up their follow-up.
Schedule a free consultation if you are looking to take your business to the next level.